In June of 2016, explore Austria with John C. Traynor
"Gaming, a quaint Austrian village nestled in the foothills of the Alps!"

6

Nights

in Austria
June 12th – 18th, 2016
4 Days of Painting
Space is limited!
For more information contact us at mail@johnctraynor.com or 603-357-7437
This package includes 6 nights in Austria with the flexibility to extend your stay on either end of the trip. The main location you will be staying is in Gaming, Austria. Gaming is a quaint village tucked in the foothills of the Alps, about 2 hours by car from Vienna, 2 1/2 hours from Salzburg. The package includes a day trip to Salzburg and 1 nights stay in Vienna.
Packages Available:
Single Artist Package $1,475
Single Non-Artist Package $1,025
2 Artists Package (sharing a room) $2,550
1 Artist & 1 Non-Artist Package (sharing a room) $2,150
2 Non-Artist Package (sharing a room) $1,750
All Packages Include:
5 nights in Gaming Austria (June 12th-17th)
1 day trip to Salzburg (June 15th)
1 night in Vienna, Austria (June 17th)
Price includes 3 meals a day & a room
Packages DO NOT include flights
Artist Package:
4 days of 4 hour painting classes.
Classes will be Monday,Tuesday, Thursday & Friday

Non-artist Package:
Guided site-seeing tours around town which will include hikes, visits to churches, and more.
More details:
Arrive in Vienna, Austria on Sunday, June 12th. Transporation to Gaming will be leaving at 1 p.m. on the 12th so please plan your flights accordingly. Transportation is included to Gaming. Your return to Vienna on June 17th includes transportation, lodging, dinner and breakfast on the morning of the 18th.
The website for the hotel is: www.kartause-gaming.at. Rooms will be in "Haus Franziskus".
The locations are not equipped with handi-cap access. This trip is not recommended for anyone challenged by walking or stairs.
Special dietary requests can be accommodated if made in advance (gluten-free, vegetarian, etc.)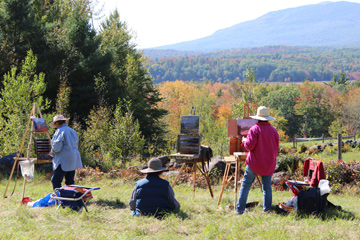 ---
Please email me if you would like all this information on 1 sheet of paper that is printer friendly.
If you have any specific questions please do not hesitate to email us at mail@johnctraynor.com.