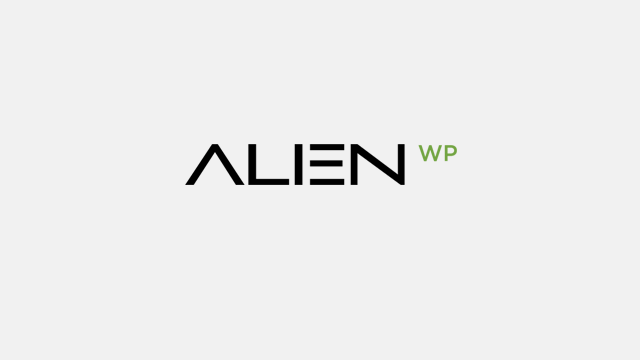 J. Cacciola Gallery W Presents…
Previous/next articles:
Past Meets Present – Paintings of John C. Traynor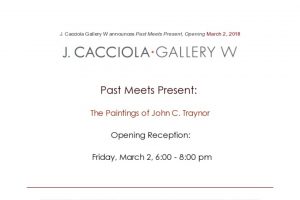 As a young artist, John C. Traynor was fascinated with the Old Masters, specifically Michelangelo, Leonardo, Rembrandt, Frans Hals and Albrecht Durer. A pivotal moment for Traynor occurred when he discovered the influential work of George Inness: "There was a large show of Inness paintings at the Metropolitan Museum of Art that I went to with my father when I was 18. He is one of the artists that still inspires me." According to John C. Traynor, "As I matured as an artist, I became interested in some of the American Impressionist and Tonalist painters. Some of my favorites were Fredrick Mulhaupt, John F. Carlson and Edgar Payne." Traynor's defined brushstrokes hearken to Payne's vivid landscapes. Others such as Corot, Monet, and Manet encouraged him to go outside and paint landscapes. In addition, some of the figurative artists he related to early on were Sargent, Sorolla and Bouguereau.
Prior to World War I, many American artists went to Europe to paint and teach classes. After the war, artist colonies starting popping up here in the United States, particularly in New Hope PA, Old Lyme CT, Cornish NH, Dublin NH and Ogunquit ME.  Traynor comments: "These were of great interest to me and I studied many of these startup colonies of impressionist painters. I can relate to many of these artists because they painted outdoors as well as in studios lit by Northern Light, using the same principles of painting that I use." In addition, there were many other colonies of painters across the country including Brown County, Indiana; and Carmel and Laguna Beach, California.
"This exhibition brings a fresh perspective to the historical significance not only of Modern art, but of contemporary artists such as John C. Traynor, who keep these traditions alive through their own work. There are no clichés in Traynor's work; only unadulterated aesthetic beauty left simply to be enjoyed and embraced for its quiet, unassuming simplicity." {J. Cacciola Gallery W}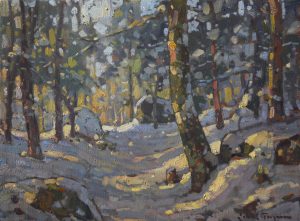 Path Less Taken – oil on linen – 18×24
John C. Traynor Save the Date Cacciola Mar2018[3]